For Agnikul Cosmos, a Chennai-based space tech startup incubated at IIT-Madras, 2022 was a year full of standout landmarks. 
In July, Agnikul launched India's first-ever factory capable of manufacturing 3D-printed rockets called Agnibaan that can carry up to 100 kg of payload to low Earth orbits up to 700 km. The vehicle has the capability for a plug-and-play engine configuration that is configurable to precisely match the mission's needs.
In November, Agnikul announced the inauguration of India's first-ever launchpad designed and operated by a private player. The facility, situated at Sriharikota, was designed by Agnikul and executed in support of the Indian Space Research Organisation (ISRO) and the Indian National Space Promotion and Authorization Center (IN-SPACe), a nodal agency which functions as an autonomous agency in the Department of Space (DoS), Government of India. 
Earlier this week, The Better India spoke to Srinath Ravichandran, co-founder of Agnikul Cosmos, to briefly understand the story behind these landmark achievements.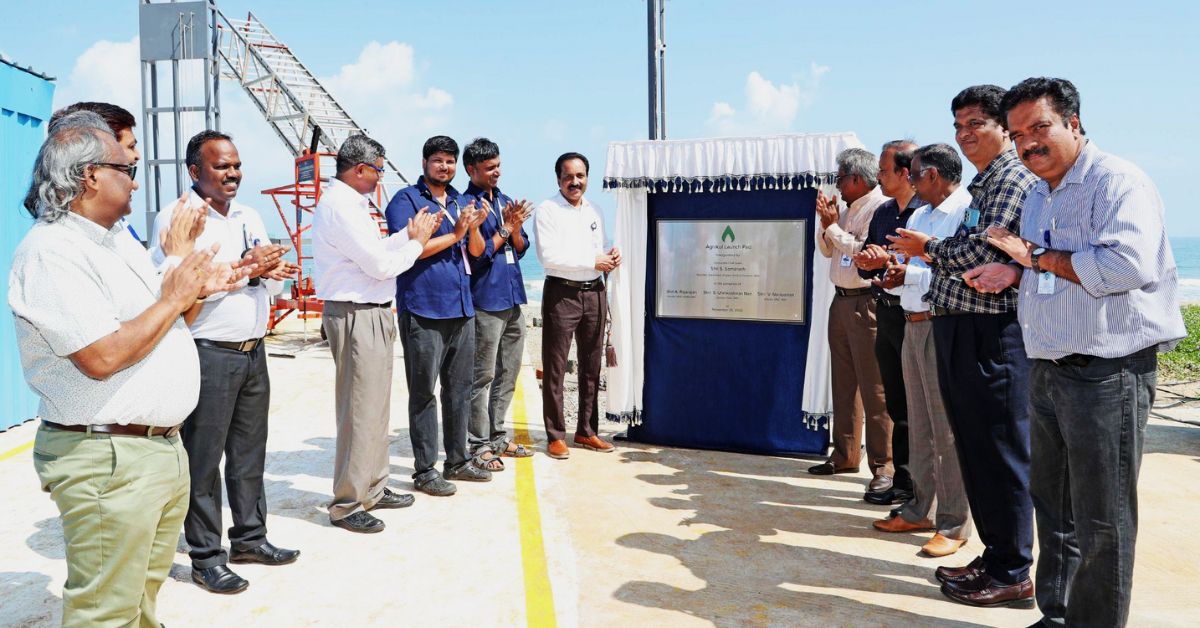 Inauguration of India's first-ever launchpad designed and operated by a private player.
Building 3D-printed rockets
Agnikul Cosmos builds small launch vehicles for use in commercial space missions. They design, manufacture, test and launch orbital-class rockets for micro and nanosatellites.
None of this is possible without figuring out the engine. Before the rocket, they worked out the process of manufacturing 3D-printed rocket engines like the thrust chamber and other critical parts. Today, they can print both first and second-stage engines, besides 3D printing multiple engines at the same. The engine uses liquid oxygen and aviation turbine fuel. ISRO even successfully conducted a hot test of a rocket engine developed by Agnikul Cosmos.      
"We started making these rocket engine designs back in 2018. It took us a while to perfect it. Till the end of 2019, we started realising these designs with different vendors in the country. When we had made enough of these engines outside, even though the design was not final, we understood what it actually meant to 3D print a rocket," explains Srinath. 
"Following this, we started buying some of the hardware and infrastructure required for not only making these engines in-house but other parts as well. In the middle of 2021, real efforts towards in-house manufacturing started. It took us about a year to set up everything. We inaugurated the factory formally on 13 July. It took almost a year's effort to get the facility in order, make sure everything works and have a fully functioning supply chain," he adds.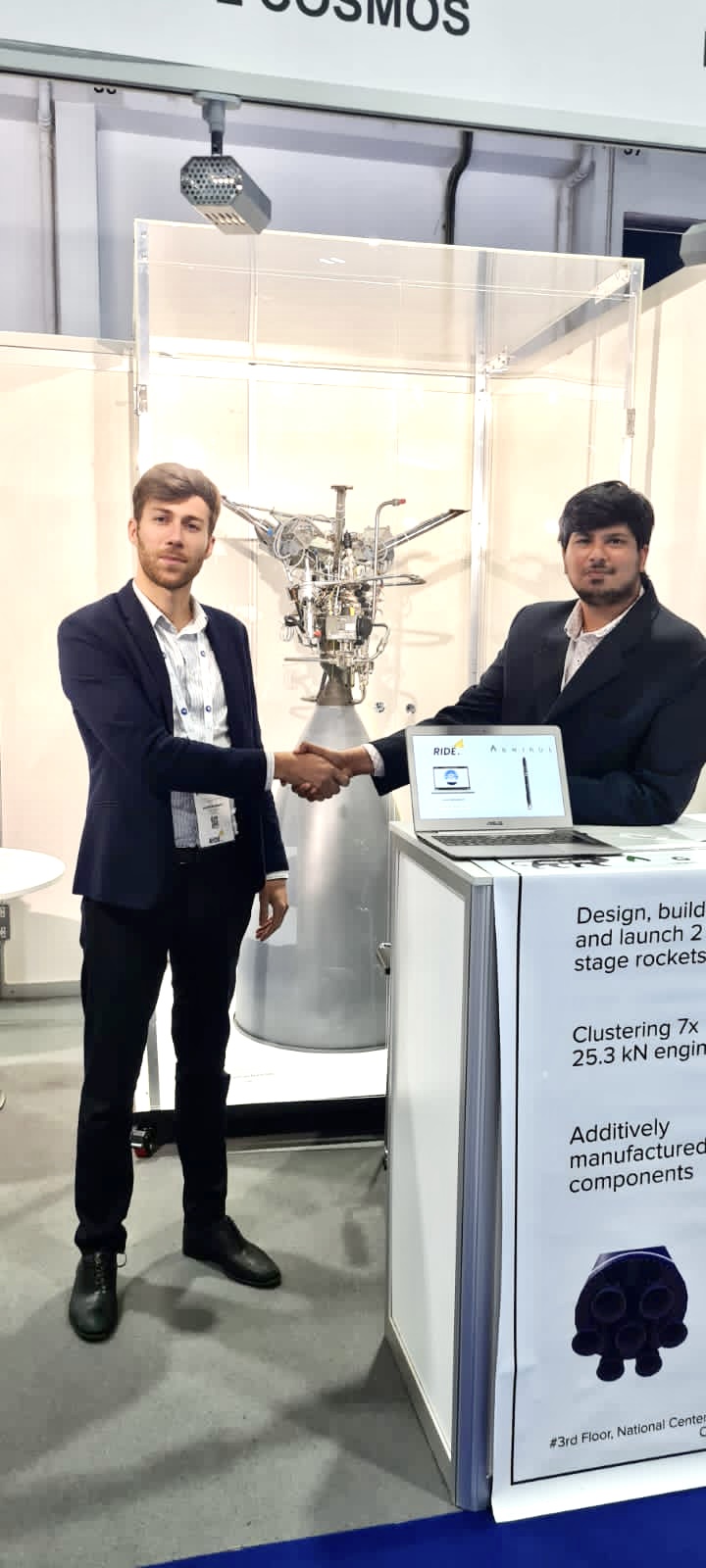 Agnikul Cosmos unveils Made In India 'Agnilet' rocket engine at Dubai.
The rockets are just hard to make. These are incredibly complex pieces of hardware to build. 
"We began our journey by trying to understand why and realised that engines are a serious showstopper. They are particularly complex pieces of hardware. What can be done to simplify the process of making them? That's where we came across 3D printing as a new manufacturing technology. We had seen people attempt building aerospace parts with it," he says.  
"We started pushing the boundaries of what it means to 3D print a rocket engine. Our committed team took it to a point where we could 3D print a rocket engine in just one shot. Back in 2018 itself, we realised that our rocket engines had to be 3D printed and that's when I started doing designs with the team on how a 3D printed engine would look like," adds Srinath. 
At Agnikul, they're really trying to "simplify access to space". Their 3D-printed rocket called the Agnibaan has the capability to launch from multiple launch ports. The real problem in the market today is rockets are still big, even though satellites have become smaller. 
"We wanted to build a nice and small rocket that can quickly take satellites to space. We are doing that with completely in-house built technology both designed and made in India, and we're doing that with a team of 100 people or so. We have a testing facility, a rocket factory and an assembling facility where we put the vehicle together," claims Srinath.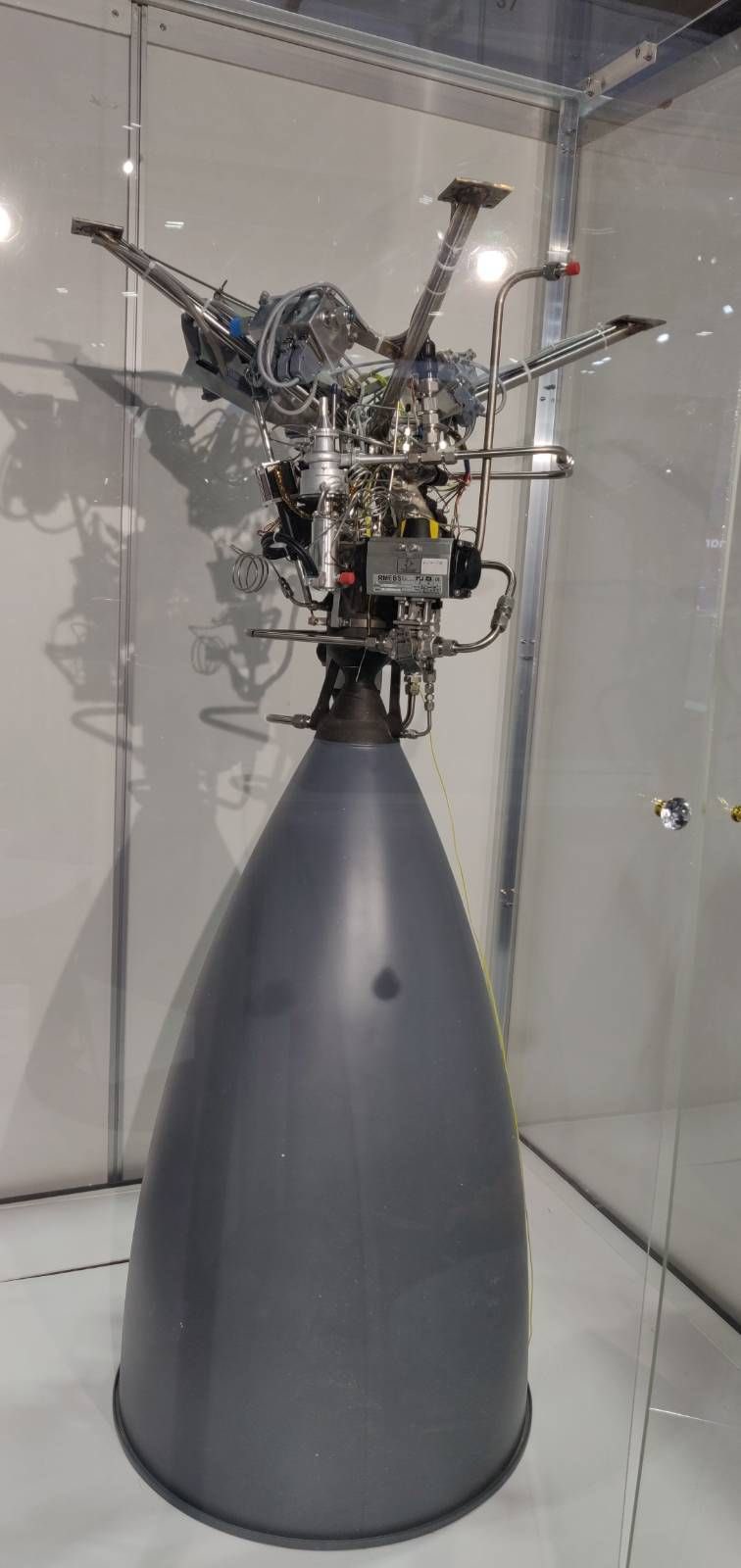 'Agnilet' rocket engine
What makes their 3D-printed rockets special?
Starting out, they contain a single-piece rocket engine, which is essentially a single piece of hardware. There is no joining, welding, or any of the processes done typically in a manufacturing process. The entire rocket engine is a single component.
"This offers an error-free process of engine making, very quick turnaround time, and it actually weighs around 11 to 12 kg only. It's allowing us to attempt designs that are incredibly complex to realise in conventional manufacturing, as well as to get into serious efficiency advantages. In conventional manufacturing, it's just not possible or feasible to do certain things. But those things are now actually possible with 3D-printed rocket engines," claims Srinath.
"With 3D printing technology, we also have reduced human errors and any sort of handling errors. In some sense, you've automated the process of making rocket engines because there is zero human interference in the process," he adds.
The engine is about 4.5 metres or so in height. Meanwhile, the entire rocket is about 20 metres in height. These rockets travel in low earth orbits (LEO) of roughly up to 700 km above Earth — which is low compared to other orbits but still very far above Earth's surface, and they travel at the orbital velocity of 7-8 km per second, according to Srinath.  
"Although we cannot disclose the specific cost of building one such 3D-printed rocket, ours is among the cheapest in the world. It's six to seven times cheaper than building a conventionally constructed rocket. It comes from tapping into the design advantages offered by technologies like 3D printing. See, building 3D-printed rockets allows you to cut out a lot of slack. We can take out materials you don't want and you don't have to live with inefficiencies in performance. Those things are actually why 3D-printed rockets are cheaper," explains Srinath. 
Given the tough environment of space, the material employed to build the 3D-printed rocket is called Inconel. These alloys are oxidation-corrosion-resistant materials well suited for service in extreme environments subjected to pressure and heat, which define space travel.  
How long does it take to 3D print one rocket? Srinath claims that the Agnikul factory can currently 3D print two rockets a week. They have customers who are waiting for the first few launches to happen. 
"We are still at a pre-revenue stage at this point. There is a queue when it comes to the fulfilment of orders. We are trying to clear the pipeline and sort things out as quickly as possible. Our customers have placed orders and we are waiting to deliver on those," he adds.
Going further, he also believes 3D printing is the future of rocket manufacturing. If you want to engage in building something extremely complex in a very repeatable manner for a few hundred units a year, 3D printing is the best option in the world today. 
"That is what the rocket industry demands because it's not like manufacturing millions of smartphones. You're making maybe about 50 to 100 launch vehicles/rockets a year. That's a nice sweet spot for us and that's exactly why 3D printing works so well for rocket making," argues Srinath.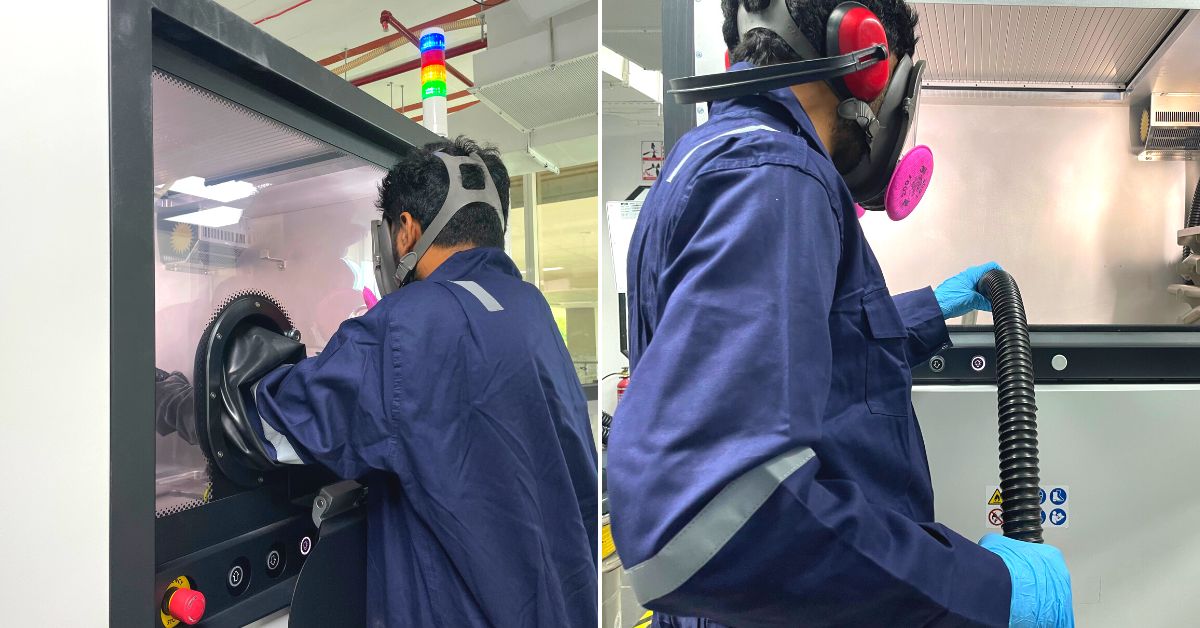 A team member working on 3D printing machine.
First private company in India to have built its own launchpad
The facility designed by Agnikul and executed with support from ISRO and IN-SPACe has two sections to it — the Agnikul launchpad (ALP) and the Agnikul mission control centre (AMCC). All critical systems connecting these two sections — which are 4 km away from each other — are redundant "to ensure 100% operationality during the countdown," says Srinath.
The launchpad is specifically built keeping in mind the ability to support liquid stage controlled launches, while also addressing the need for ISRO's range operations team to monitor key flight safety parameters during launches. Additionally, it has the ability to, as necessary, share data and other critical information with ISRO's Mission Control Center. 
"We were the first in the country to actually develop a launchpad privately with ISRO support. The launchpad is located within ISRO's premises. They have been very supportive and made our lives easier. ISRO gave us institutional support, but no financial support. We had to ask them for permission to build our facility within their premises. Our objective is now delivering on customer expectations we have for this launchpad," says Srinath. 
Addressing the need for ISRO's range operations team to monitor key flight safety parameters during launches, Srinath explains, "When you're launching from a particular country, the space agency or launchpad operator has the responsibility to ensure flight safety during lift off, before lift-off, etc. This means that your systems have to be compatible with the systems of the launchpad operator. That interfacing is important for us."
"As an entity, you have to make sure that you are able to talk to ISRO's systems. It was important for us to keep in mind because any launch is actually a combination of the launchpad operator and the launch vehicle operator to get the mission done. ISRO was super helpful, but it took the effort to make sure that our systems could communicate with their systems," he adds. 
Important learning in this process was realising that launch vehicle development is difficult, but launchpad development is equally hard. "On the launch vehicle side, you look for accuracy and reliability. On the launchpad side, you look for other things. It's not about one launch, but hundreds. Here the rigour and focus are on durability, longevity, repeatability and so on," he says. 
Why is India's first privately operated launchpad a landmark moment? Srinath and his co-founder Moin SPM believe that this is a validation of the policy changes coming up in the country. 
"Beyond technology, it's also about the system and the government allowing things like these to happen. You can't build a launchpad in India without having the government's support and a system to enable this. Of course, building this technology is hard, but beyond this, it's also about government policy supporting such endeavours," says Srinath.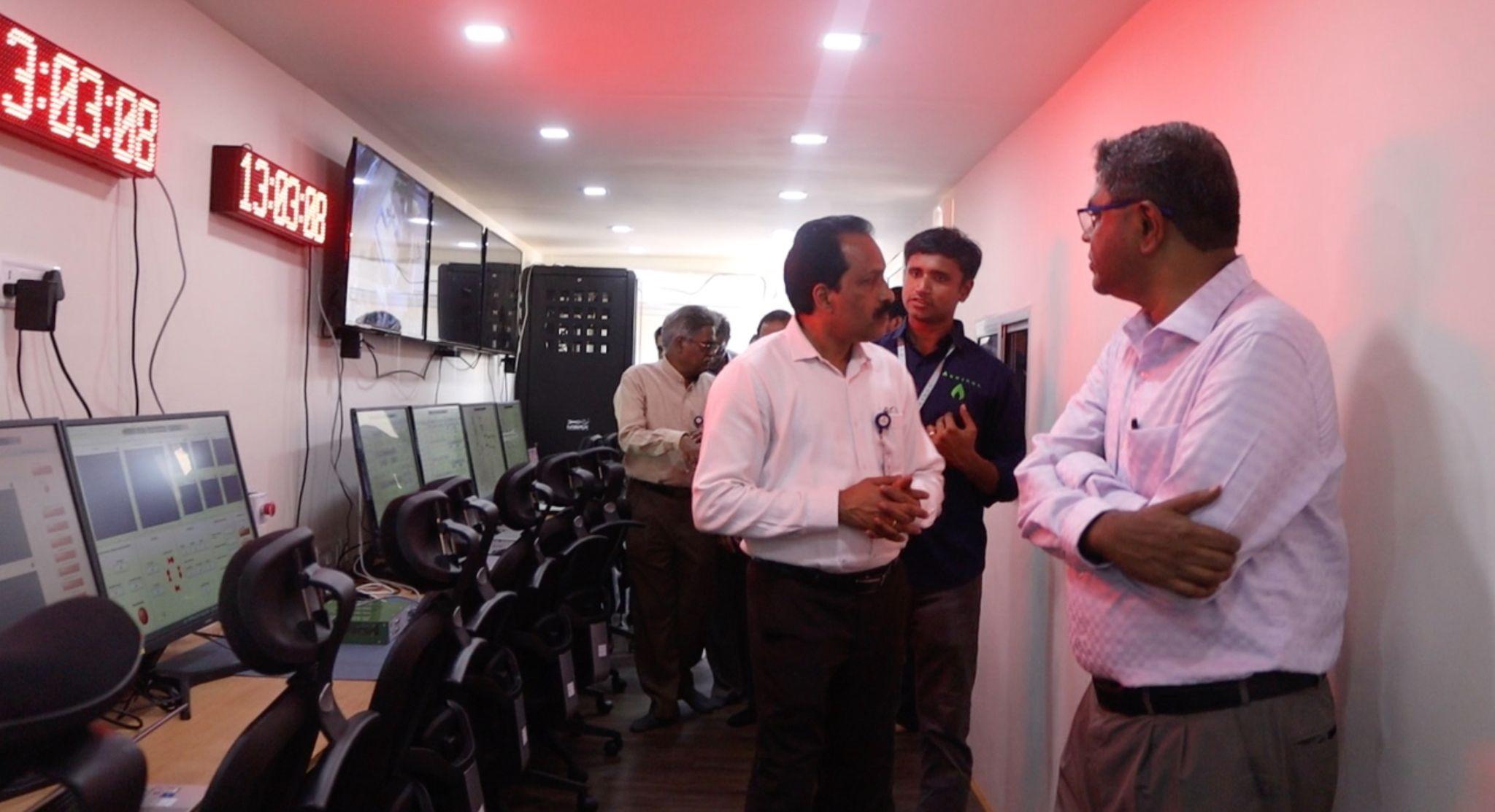 Agnikul mission control centre
Availing of Agnikul's services  
Agnikul Cosmos was the first space tech startup to sign an agreement with ISRO under the INSpace initiative. "We are providing transportation services to space for commodities. Think of it like an Amazon truck or Flipkart truck from earth to space. We are doing that in such a manner that the wait time between when you place the order to actually take someone or something to space is less than two weeks," explains Moin SPM, co-founder.
"Think of any commodity, satellite, or anyone who wants to go to space. We are a vehicle that enables this process. A rocket is a launch vehicle which helps in the transportation of people and products from earth to space. Whoever wants to take a ride to space is our customer. These include entities engaged in remote sensing, earth imaging and others engaged in taking photos of the earth's surface, atmosphere or atmospheric clouds, etc.," says Srinath.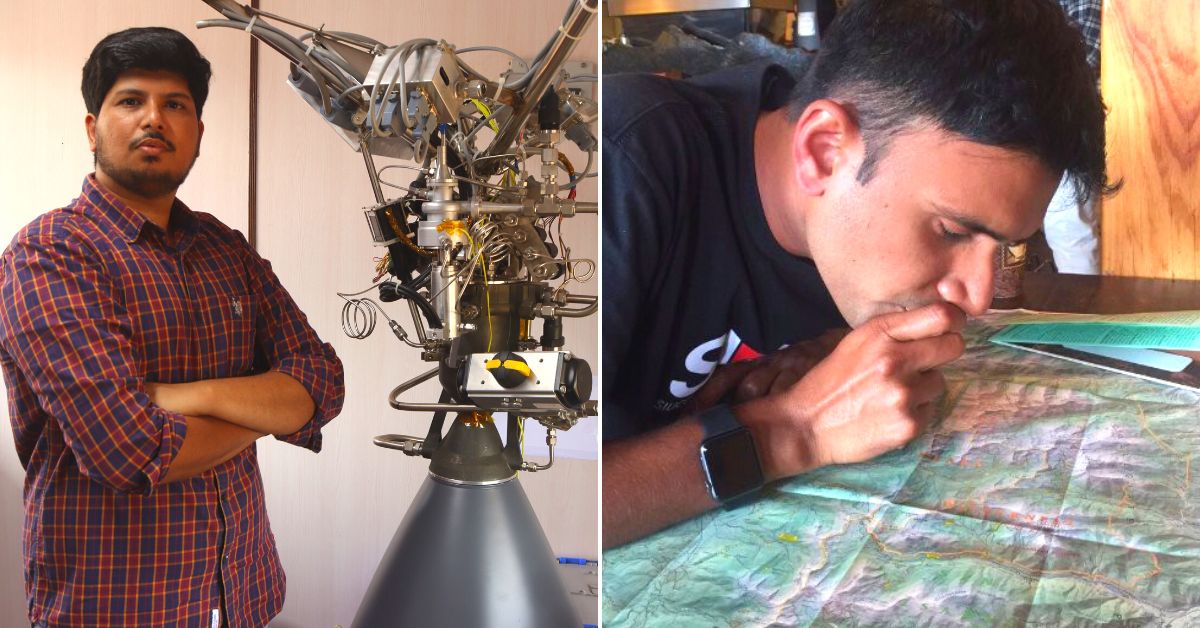 Agnikul Cosmos co-founders Moin SPM and Srinath Ravichandran.
"The other large segment of customers are entities putting up satellites in space for communication purposes. Other than these, there are also segments where people actually go to test commercial products that have to operate in space.  Now, a lot of new applications have also come up. People are trying to do manufacturing in space," he adds.  
While Srinath cannot get into specific customer names, he notes that you would come across them by googling "small satellite makers for earth imaging" or "small satellite makers for communication". "If you Google the names in the top 10, we are speaking to all of them," he says. 
Building this technology and the infrastructure around it requires significant capital investment. Thus far, they have raised multiple rounds of funding from institutional investors amounting to about $30 million to $35 million. "We've been very fortunate and grateful to have people who are believers in what's possible in space technology. It's important to tap into that and now actually get things done," says Moin. 
(Edited by Divya Sethu)
(Images courtesy Agnikul Cosmos)