In a major loss for Indian civil society, Periyapatna Venkatasubbaiah Satheesh, the 'Millet Man of Telangana', founder and executive director of the Deccan Development Society (DDS), passed away in the early hours of 19 March 2023 following a prolonged illness. PV Satheesh was undergoing treatment at a major hospital in Hyderabad before passing away at age 77. 
On the following morning, his last rites were performed in Pastapur village of Sangareddy district (formerly a part of Medak district), in the Zaheerabad region of Telangana. It was back in the early 1980s when Satheesh, along with a couple of friends, broke away from mainstream media to establish DDS in Zaheerabad, a semi-arid region in rural Telangana.  
As founder of DDS, he played a pivotal role in improving the livelihoods of thousands of women who were largely from Dalit and adivasi communities across 75 villages in Telangana. Collectivising these women into 'sanghams', the DDS organised a range of programmes challenging hunger, malnutrition and monoculture, and promoting biodiversity, gender justice and economic security.
Underpinning these programmes was a revival of millets, particularly white jowar (Sorghum), native to the region, that can sustainably grow in semi-arid conditions and offer better health benefits than more 'commercial' crops like rice, wheat and sugarcane. Satheesh led the internationally-renowned non-profit organisation for more than four decades. 
Over time, he also led and actively participated in several national and international advocacy organisations like Millet Network of India (MINI), South Against Genetic Engineering (SAGE), AP Coalition in Defence of Diversity and South Asian Network for Food, Ecology and Culture (SANFEC) to promote sustainable farming, livelihoods, biodiversity, and of course, millets.                    
For example, through MINI, an umbrella organisation of activists, scientists and non-governmental organisations, he successfully pushed the Union government to implement the National Food Security Act, 2013, and include millets in the public distribution system (PDS). His work has gone on to inspire similar initiatives in millet revival and promotion across India. 
Going one step further, he is also credited with starting India's first Community Media Trust, a grassroots organisation where poor and marginalised Dalit women received training in filmmaking in a bid to facilitate their representation in the Indian media landscape, and even launched India's first rural and civil society-led community radio station called Sangham Radio. 
Satheesh also established the Pachha Saale ('Permaculture School'), where he inspired the youth with an alternative model of education and serious conversations about their socio-economic realities. Products of this school have today become community leaders.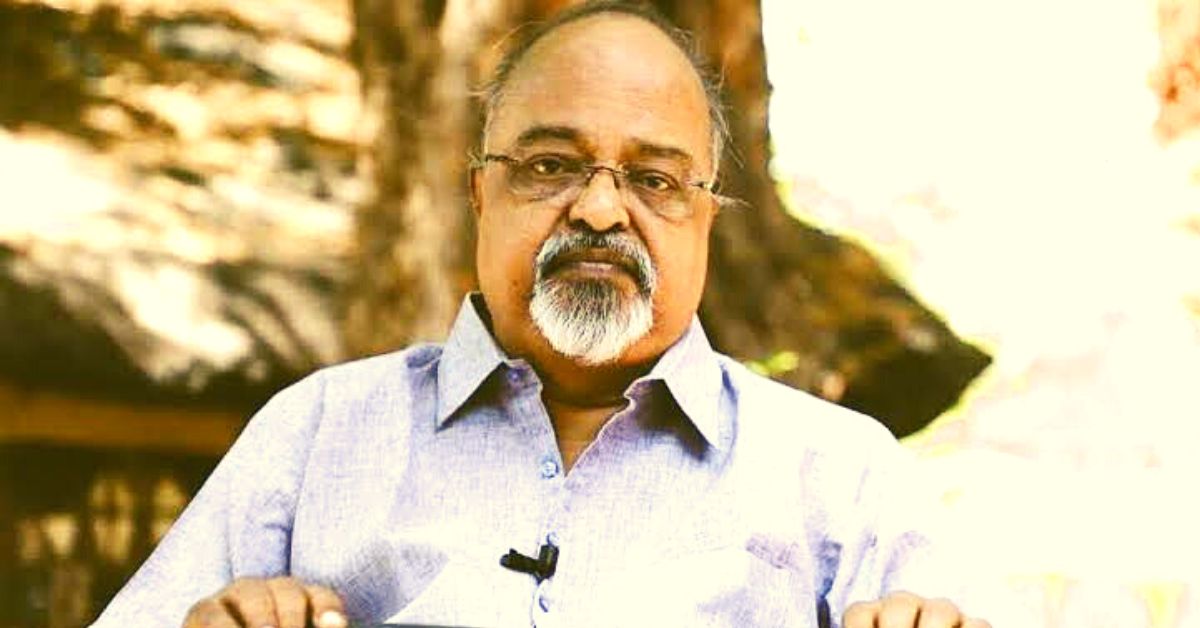 PV Satheesh
Giving young media talent their first break
Born on 18 June 1945 in Mysuru, PV Satheesh graduated from the Indian Institute of Mass Communication, New Delhi, and started his career as a journalist. For nearly two decades, he was a pioneering television producer for the state-run Doordarshan, where he often made programmes promoting rural development and literacy in erstwhile united Andhra Pradesh.   
Through his time in mainstream media, Satheesh helped many young talents get their first break including Harsha Bhogle, the well-regarded cricket commentator and analyst. He credits Satheesh with giving him his first major break in the media. 
As he notes in his Twitter thread, "He allowed me to host preview programmes & my work on DD (& AIR) made my CV a little more interesting during my IIM interviews. Somebody in Delhi heard me on that game and I got an ODI in Vadodara later that year against the West Indies and then my 1st test match in December 1984." Bhogle goes on to add, "I will always be deeply grateful to PV Satheesh for setting me up on the path that I was able to navigate."   
Satheesh also played a key role in the historical Satellite Instructional Television Experiment (SITE). Launched in 1975, this was an experimental satellite communications project designed together by NASA and the Indian Space Research Organisation (ISRO). Between 1 August 1975 and 31 July 1976, the project was responsible for making informational television programs available to rural India. The experiment covered 2,400 villages across six states, and led to an increased focus on satellite broadcasting in India. 
Deccan Development Society (DDS)
In a conversation with Prince Albert II of Monaco Foundation in June 2020, Satheesh recalled,  "Thirty-five years ago, when we came to this place as DDS, this region called Zaheerabad looked devastated. There was no greenery anywhere in the vicinity of 100 kms." 
"To address this, the first set of initiatives that the DDS took was to restore the land to some modicum of productivity. Tend the earth, erase the scars that made earth scorched and restore the fertility of the earth. To make this, we worked for almost 10 years by de-stoning, adding top soil, bringing in natural manure and making the earth habitable and cultivable again," he added.
What did this process look like? In a June 1999 paper published in Seedling, which he authored alongside M Pimbert, he presented an interesting explanation. 
Meetings were initially held in each of these villages with project partners, the DDS and the village poor who came forward to implement the project on their lands. The required money was advanced over a three-year period to the farmers to cover costs of ploughing, manuring, sowing and weeding. This money was later repaid in the form of grain grown on the newly developed lands. Rs 2,600 per acre was advanced and repayment was set at 860 kg of sorghum per acre over a five-year period. After every modality was explained, negotiated and agreed to, formal agreements were drawn up and a contract signed between the individual farmers and the DDS.
Once this was done, villagers started planting crops. Around this time, 5,000 women had joined the DDS. "These were women who were coming from the margins of society, socio-economically the most deprived people but they had the courage to face the challenge and rewrite their future. With this courage, they said that we will re-green the earth. They started planting many kinds of crops on the land," said Satheesh, speaking to the Foundation.  
"When the time came for raising crops on this land, the women made some fantastic choices. For one, because of the extreme dryness of this semi-arid area, they did not go for any irrigated crop. Everything had to be dryland, rainfed agriculture," he added.
More importantly, they didn't go with monoculture. "They thought that biodiversity is the answer to make the soil healthier and responsive again…They planted more than 20 to 25 crops per acre of land and these 25 crops formed the rainbow of the food that they ate," he said.
However, these women didn't stop here. "Each village had something like 50, 100, 200 acres of land which were called Village Commons. Most of these Village Commons were dry, dusty and bald. The women said we must plant and completely change the shape of these Commons. In tune with this resolve, they raised neighbourhood forests and all these village commons and millions of trees were planted over a period of ten years," he recalled. 
Today, a variety of neighbourhood forests have come into existence and "they bring the women not only fruit, fodder, fuelwood and small timber, but also a lot of greenery that will allow the land to absorb rain and keep it unthirsty," he added. With neighbourhood forests blooming, and croplands yielding to their maximum potential, life had changed for these women. 
What's particularly remarkable about these initiatives is their decentralised, people-centric and indigenous nature. Groups of Dalit women members called sanghams in each village form the cornerstone of these initiatives. For example, these villages created their own alternative PDS system called the community grain fund (CGF), whereby each resident is issued a 'jowar ration card'. This card entitles them to a monthly allowance of jowar (sorghum) at subsidised prices. 
"This is an innovative programme where food grain production, procurement, storage and distribution are done at the local community (village) level and are entirely managed by the women sangham members. Another innovation of the programme is the identification of poor households within the community through a process of participatory wealth ranking that overcomes problems of exclusion/inclusion so pervasive in government run PDS," notes a 2004 paper by Ch. Srinivas and S Abul Thaha for Glocal Research and Consultancy Services.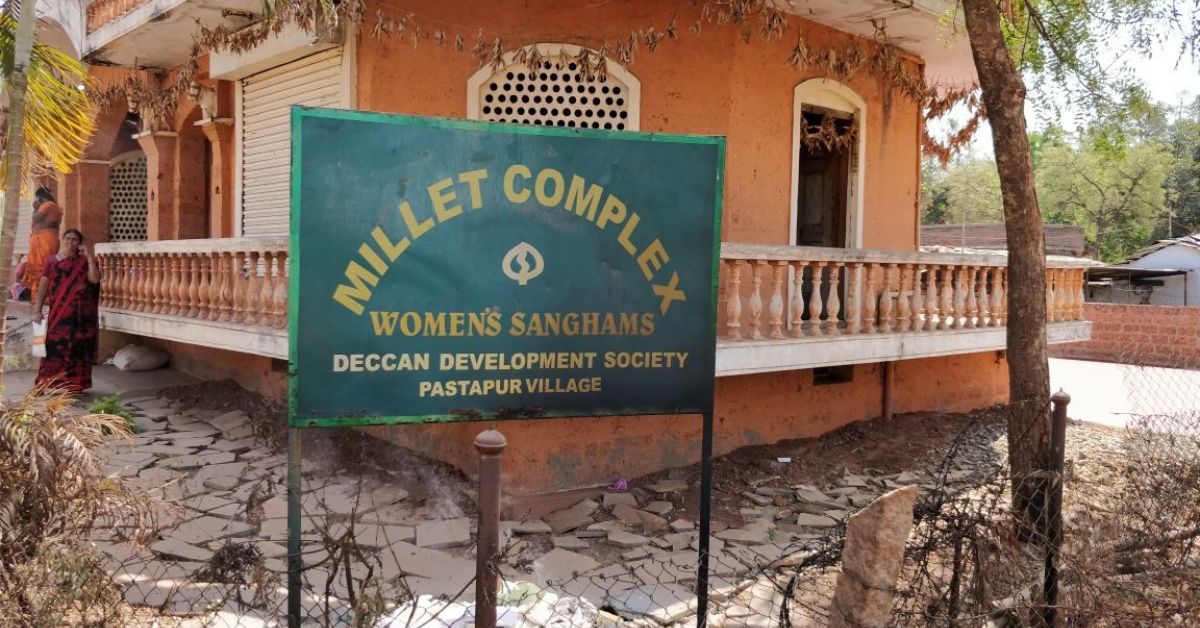 A sangham office in Pastapur village, Telangana
Sanghams run by women in each village are responsible for running the CGF, where proceeds from the sale of crops is deposited. These groups are accountable to villagers and DDS. 
"Transparent procedures ensure that all the proceeds from the sale of the grain are deposited in the CGF account. The money is used as a revolving fund from year to year to reclaim more fallows [fallow land] in the villages," explained Satheesh and Pimbert in their paper.  
To store the grains, meanwhile, they've used baskets made from date palm leaves and "reeds with insect-repellent qualities" by local weavers. These baskets are "smeared with mud and cow dung and then dried." To ensure further protection against pests, "the grain is mixed inside the baskets with neem leaves (a natural pesticide) and cow dung ash," noted the Seedling paper. 
Going further, to address food insecurity, the women farmers organised under DDS set up seed banks where they collect and store many varieties native seeds. Take the example of Begari Lakshmamma, a farmer, single mother and member of the Dalit community in Humanpur village of Telangana, who runs a seed bank with about 70 varieties. Set up in the early 1990s with assistance from DDS, no farmer in her village today buys seeds from seed companies.  

DDS has worked wonders with Dalit women in the Zaheerabad region
Today, these villages celebrate Mobile Biodiversity Festival (MBF) to celebrate seed diversity. 
Addressing a MBF gathering earlier this year, Satheesh said, "The MBF began as a small-scale event with two carts in a village. Over the last two decades, it has grown to 16 carts and 25 villages with the initiative of Sangham women. Every year, the rate of biodiversity loss in native seed varieties is rising rapidly. This has dire consequences for our food security in the upcoming era of climate change. Over the last 3 decades, DDS sanghams have saved Zaheerabad as one of the last standing agro-biodiversity hotspots in Telangana, especially for millets."
Furthering the cause of economic security, Satheesh and DDS set up the sangham market or 'Market of the Walkouts' which farmer producer organisations (FPOs) can take inspiration from. 
Kavitha Kuruganti, a farm activist, in an article for The India Cable, wrote, "This is about protecting poor producers who also get exploited as consumers, by the creation of rural-rural markets to begin with, the surpluses then being sold to urban markets. The Millets Cafe on the Hyderabad-Bombay Highway was the first of its kind, popularising millets with everyone."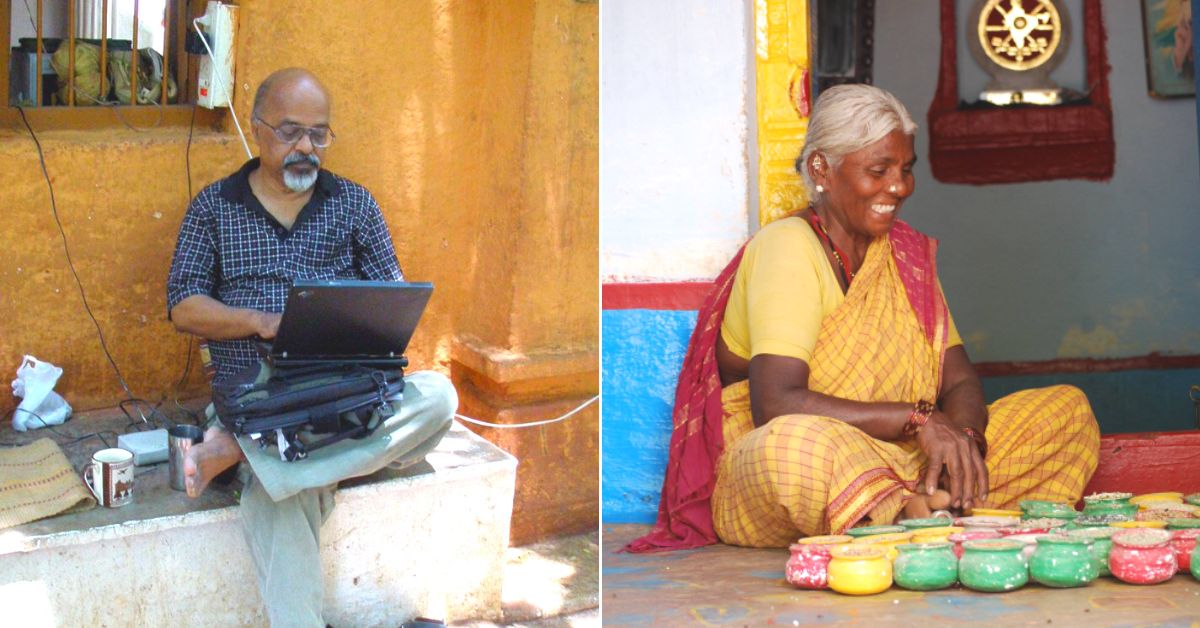 PV Satheesh played an instrumental in helping marginalised women from rural Telangana achieve food security
Advocating for millets
In June 2019. DDS was selected for the Equator Prize for 2019 by the United Nations for setting "an outstanding example of local, nature-based solutions to climate change and sustainable development." For years prior to this award, however, they've been advocating the growing and consumption of millets. Once seen as food only fit for animals, today they are in much demand.  
A major impetus for their rising popularity has been the National Food Security Act of 2013, which recently added millet to the basket of foods to be distributed through the public distribution system (PDS). In addition, the Commission for Agricultural Costs and Price has also fixed a high Minimum Support Price (MSP) for millets. And now, States are taking action.      
As of January 2023, Telangana is taking steps to include millets to their integrated child development services (ICDS). Meanwhile, neighbouring Andhra Pradesh is contemplating introducing millets through the Public Distribution System (PDS) on the lines of rice from this year, which is being celebrated as the year of millets. Many have contributed to the positive discourse surrounding millets, but Satheesh played an integral part. 
For example, in September 2016, as convenor of Millets Network of India (MINI), he launched a nation-wide campaign to push the Union government into implementing the National Food Security Act, 2013, and include millets in public distribution system (PDS). The campaign was conducted at village, block, state and national level to "create a mass awareness and momentum from the communities in fighting for the cause of millets," he said.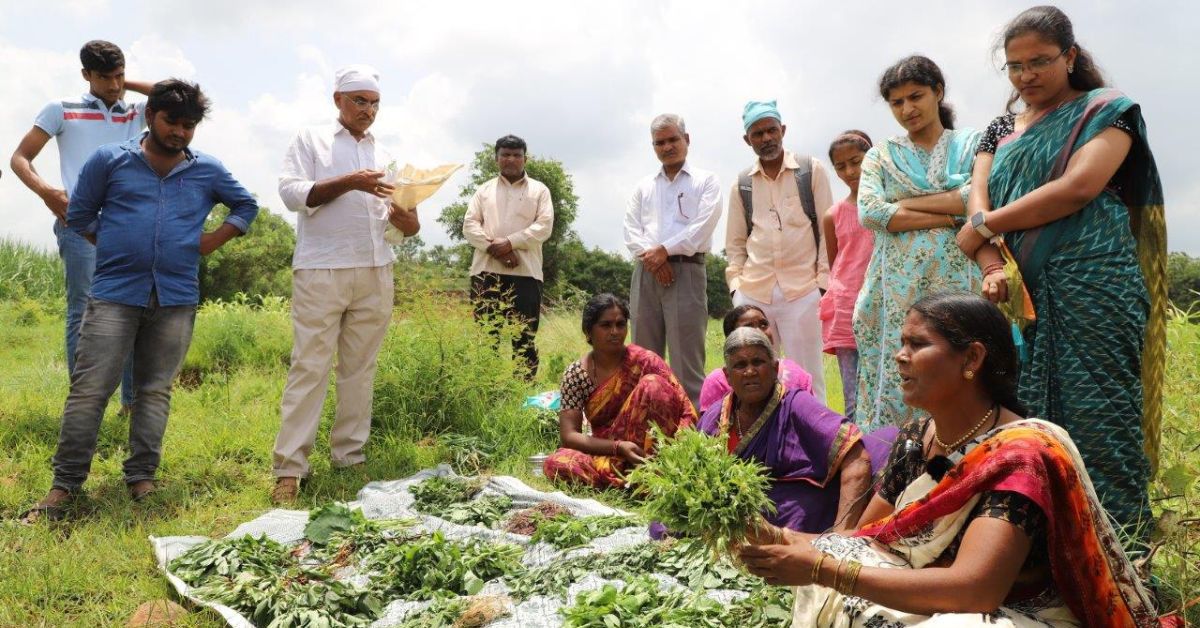 Rural women showing their produce to customers ouside
Social activist Biraj Patnaik said on Twitter, "PV Satheesh was a doyen in the field of millets in India. Deccan Development Society pioneered the reintroduction of millets in public programs. A mentor for many of us working on the right to food, Satheesh worked relentlessly till the end."
Meanwhile, Ashish Kothari, an Indian environmentalist and one of the founders of Kalpavriksh, said, "He was a true revolutionary, believing in the agency of the most oppressed section of Indian society to create magical transformations towards food sovereignty, media independence, gender equality and a challenge to casteism, amongst other achievements."
(Edited by Divya Sethu; Images courtesy Twitter/Kalpavriksh/DDS)
Sources:
'Conversation with PV SATHEESH – Director, Deccan Development Society' by Prince Albert II of Monaco Foundation
'Reclaiming Diversity, Restoring Livelihoods by Women Sanghams of the Deccan Development Society' by PV Satheesh and M Pimbert; Published on 20 June 1999 courtesy Seedling 
Twitter/Harsha Bhogle/Biraj Patnaik
'Begari Lakshmamma' by Civil Society; Updated on 24 September 2019
'Biodiversity festival held in Zaheerabad' by The Hindu Bureau; Published on 24 January 2023
'Millets should be in PDS, Says Lobby'; Published on 22 September 2016 courtesy Vikalp Sangam
'A revolutionary passes on: PV Satheesh' by Ashish Kothari; Published on 19 March 2023 courtesy Asish Kothari/Blogspot
'Obituary: PV Satheesh, who helped women reinvent self-sustained agri, passes away' by KV Kurmanath; Published in 19 March 2023 courtesy The Hindu BusinessLine 
'P.V. Satheesh, the Original Millets Man of India' by Kavitha Kuruganti; Published courtesy The India Cable
'A Study on Alternative Public Distribution System: A Novel Initiative of Deccan Development Society' by Ch. Srinivas & S. Abdul Thaha; Published by Glocal Research and Consultancy Services, Hyderabad