There is no stopping the Indian hydroponics market. In fact, a report issued in February 2021 predicted that the Indian hydroponics market is likely to grow at a compound annual growth rate (CAGR) of 13.53% between 2020 and 2027. Meanwhile, the global market is estimated to grow at 6.8%.
Driving this growth are a plethora of startups, ventures and farming/gardening enthusiasts. One such venture in the fray is Rise Hydroponics, an Ahmedabad-based agritech startup that was founded in 2020 by three entrepreneurs — Tusshar Aggarwal, Meet Patel, and Vivek Shukla. 
Rise Hydroponics provides "end-to-end soilless and hydroponics farming solutions". It is also "involved in developing both outdoor and indoor hydroponics farm projects". 
What do these mean? For starters, they help individuals with the time, manpower and a desire to get into the hydroponics business build an entire farm. 
Once the entire project is set up, these individuals run it while Rise Hydroponics provides them a year of agronomy and maintenance services free of cost. The startup also assists in developing marketing strategies and building the brand, and even buys a percentage of their total produce for the first few months to support their nascent business. 
Thus far, they have developed more than 35 commercial projects across India under this model.  
The startup also assists businesspersons and corporations set up hydroponics projects. Often these entities want to get into agribusiness but don't have the time, and thus enter into a partnership with Rise Hydroponics. Under this model, the concerned entity must come up with the land and financial investment to set up the project.
Once the land and investment is available, the startup not only develops the project, but also employs trained people to manage the farm and perform a variety of services like nutrient management, crop planning, agronomy, growing, packaging, logistics, sales and marketing. The concerned entity and the Ahmedabad-based startup share the profits of this venture.         
Finally, Rise Hydroponics is also in the business of retailing hydroponically grown vegetables through their brand called 'Rise Freshz  – Direct from Farms'. 
They are direct vendors to retail businesses like BigBasket, Star Bazaar and Waycool, among others, besides selling to hotels, resorts, caterers, supermarkets, food product manufacturers, vegetable traders, Agricultural Produce Market Committee (APMC) Mandis and Ayurvedic companies. 
Today, the startup is working on growing more than 50 types of crops through their projects. 
"We have completed more than 40 commercial large projects in 27 different cities and developed more than 25 lakh square feet of hydroponics and soil-less farms. We have also trained more than 35,000 agriculture enthusiasts, farmers, entrepreneurs, businessmen, students, working professionals, homemakers, international students and delegates in soil-less farming," claims Tushaar Aggarwal, director of Rise Hydroponics, in a recent conversation with The Better India.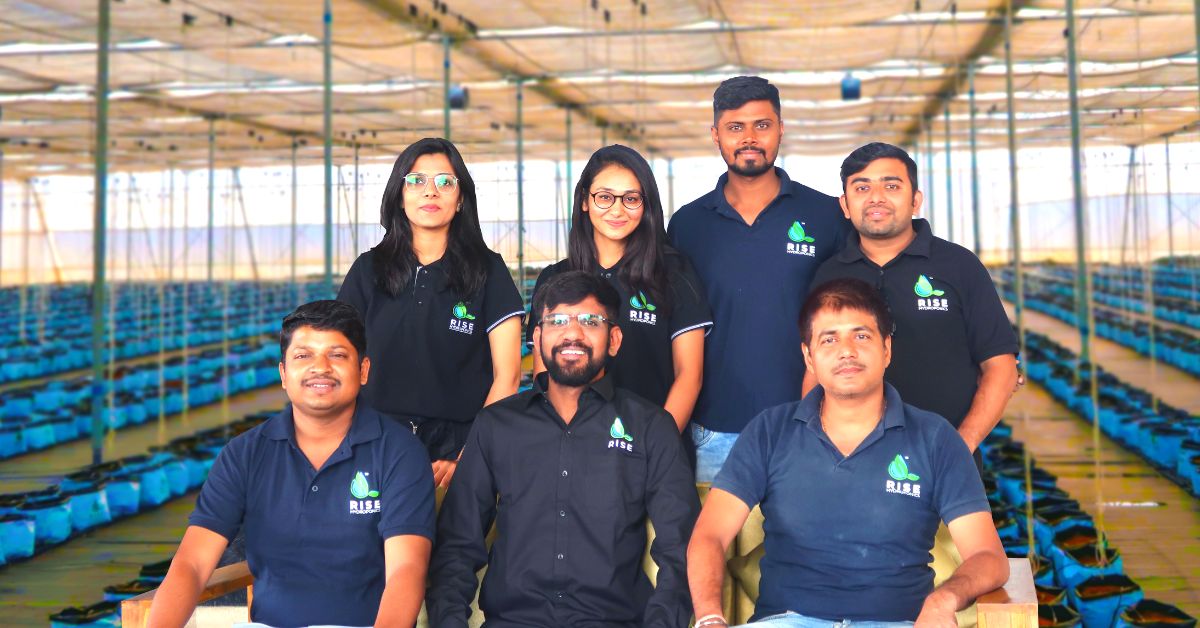 Team Rise Hydroponics
The meeting of minds
The story of Rise Hydroponics begins with Tusshar and Meet, who first encountered each other at Entrepreneurship Development Institute of India, Ahmedabad, while pursuing their MBAs in 2016. Meet, who comes from a family of farmers, had always harboured a desire to get into the business of agriculture. Tushaar, meanwhile, wanted to build a startup which solved some real-world problems. Eventually, the two of them stumbled upon the science of hydroponics.  
"The idea was innovative and certainly could solve the problems of food security, water scarcity and depleting soil fertility among others which the world is facing," argues Meet. 
For the first two years, they did a lot of "self-learning, practice, and implementation on their own rooftop" and tried to understand "the nitty-gritty of hydroponics technology and its different implementation methods".  
This was followed by building a community of hydroponics enthusiasts around the country online. Later, they got into consulting hydroponics companies and farmers, where both of them met Vivek Shukla, an experienced hand in the farm sector.   
They would go on to establish Rise Hydroponics in 2020.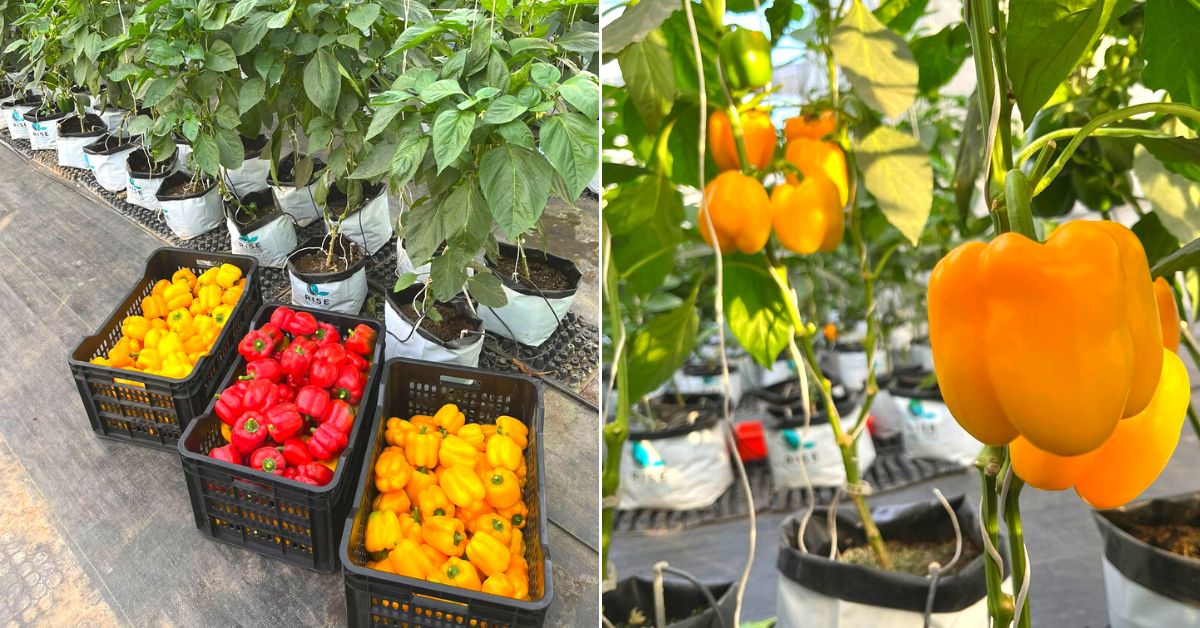 Capsicum in grow bags courtesy Rise Hydroponics
Practising hydroponics
"We are working in all types of hydroponics and soilless farming methodologies. Nutrient Film Technique (NFT), Dutch buckets, grow bags, grow slabs, trough, indoor vertical farming, multi-layer farming, etc. We are growing both in a medium-based method like cocopeat as well as the medium-less farming method. The medium-less method works on a recirculating concept, wherein the nutrient rich water is continuously flowing," explains Meet.
"Here, an inlet of nutrient water is given from one side and an outlet on the other, which then goes back to the main working tank. The same water keeps on recirculating and nutrition management is done through our automation software and dosing unit in real-time," he adds.  
Elaborating on its benefits, Tusshar says, "This system is efficient in terms of water saving. Compared to traditional farming methods, it saves upwards of 80% of water, uses 85% less land, raises the production rate by 30-70%, and yields by 20-60% depending on the crop." 
However, when using mediums like cocopeat (a multi purpose growing medium made out of coconut husk) or perlite (made from a mined volcanic glass of the same name), a drip irrigation system is used instead of a recirculating one, explains Meet.   
"Generally speaking, if you are growing vine crops like tomatoes, capsicum or longer cycle crops, it's always more advisable to go with a cocopeat-based system than a medium-less or a recirculating system because the chances of root-rot or disease spreading is lower," he says.
For nutrient management in this system, the startup has developed the 'Rise Automatic Fertigation Management Unit' (RAFU)', which relies on automation. 
"The RAFU was developed for large-scale commercial size farms. You can manage multiple acres of farms through just a single RAFU. One can grow multiple different types of crops at the same time and manage the nutrition of all of them through just a single RAFU. You can set weekly schedules, time allotment as per different crops or farms, nutrition combinations, volume based, time based fertigation, EC, pH, temperature, and humidity management," he says.
Advertisement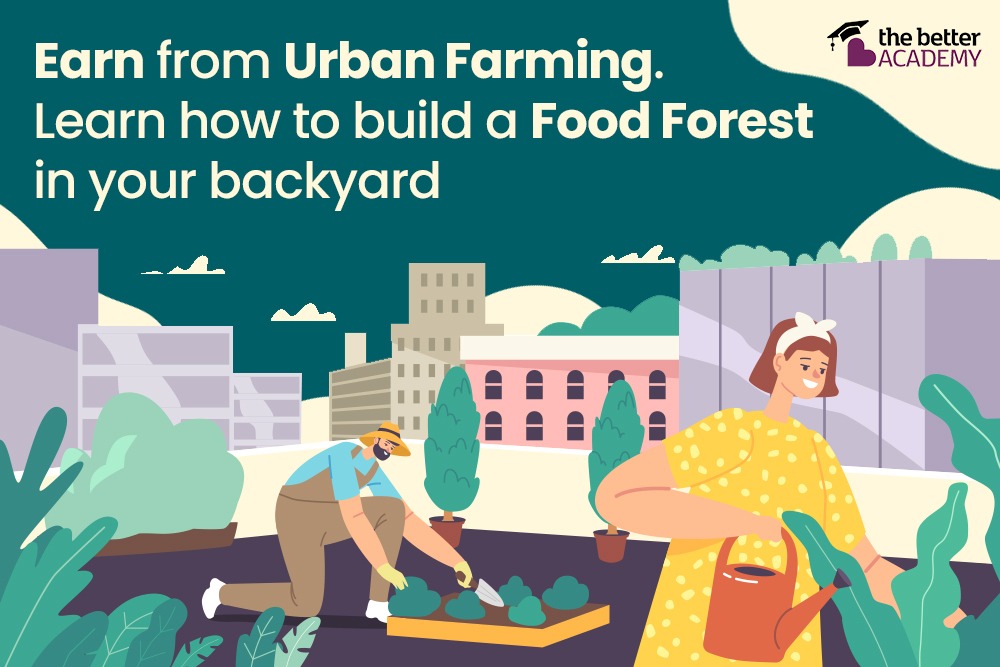 "Everything works on automation as per the set algorithms, no matter whether you are physically present there or not. You would also get all of this information on your mobile phone through our IoT enabled systems and software," he adds.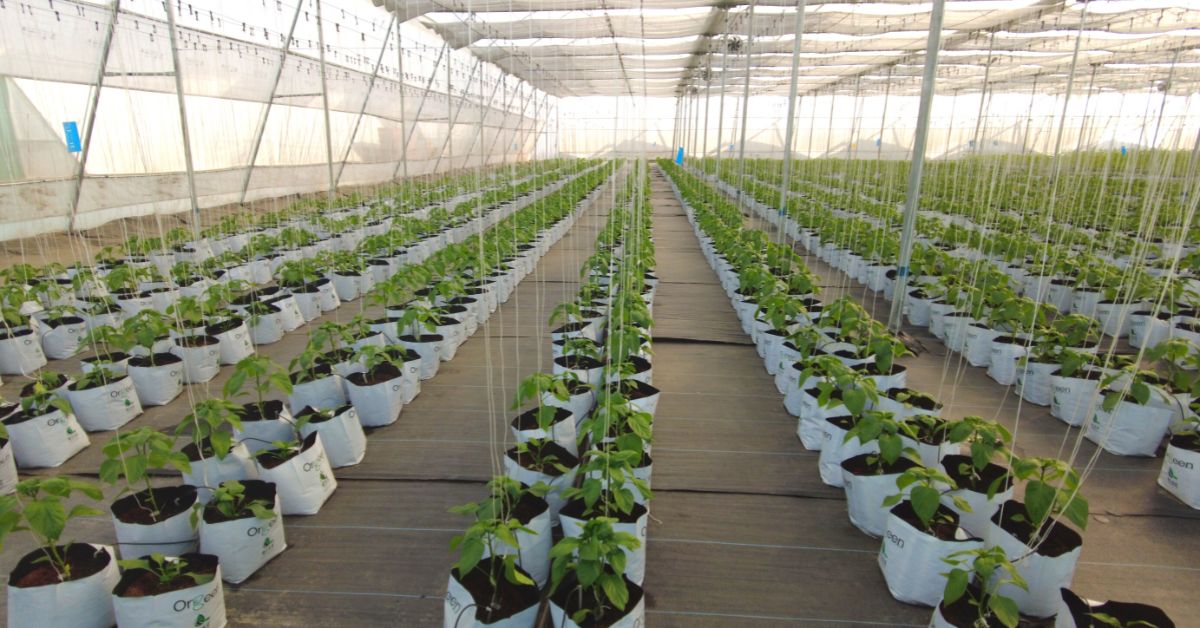 Hydroponics farm
Setting themselves apart from the crowd?
Given the mushrooming of startups engaged in the business of hydroponics, it's only natural to ask what sets them apart from the rest. Out of all the reasons they presented to The Better India, a few stood out. 
Here's what Tusshar had to say about it:
"We are well versed and capable of working in any kind of weather conditions. We have improvised hydroponic farms in cold, rainy and hot cities. Thus, we can easily understand the specific requirements for the structure, type of plastic covering, suitable crops, problems and solutions for all things related to growing. Also, we are among the very few in India who are truly offering an end-to-end agribusiness model, right from training to setting up, growing and selling."
Another one which stood out is their 50,000 square feet research and development (R&D) centre in Ahmedabad, where they conduct "extensive research of different crops, how to increase production, decrease the cost of growing and come up with new nutrient formulations, varieties of crops and seed testing, amongst other things," adds Tusshar.   
Going further, they have the experience of setting up and managing large-scale soilless hydroponics farms, which most ventures in this space don't do.
Ashish Lodha, a practitioner of hydroponics from Raipur, says, "My father and I were planning to use our former warehouse space for something productive and profitable. Farming was never on our mind until the day we heard about Hydroponics. We visited the website of Rise Hydroponics and got in touch with them. They immediately got down to work. Today, our 500 sq ft space is sprawling with leafy greens and other 5,000 plants too."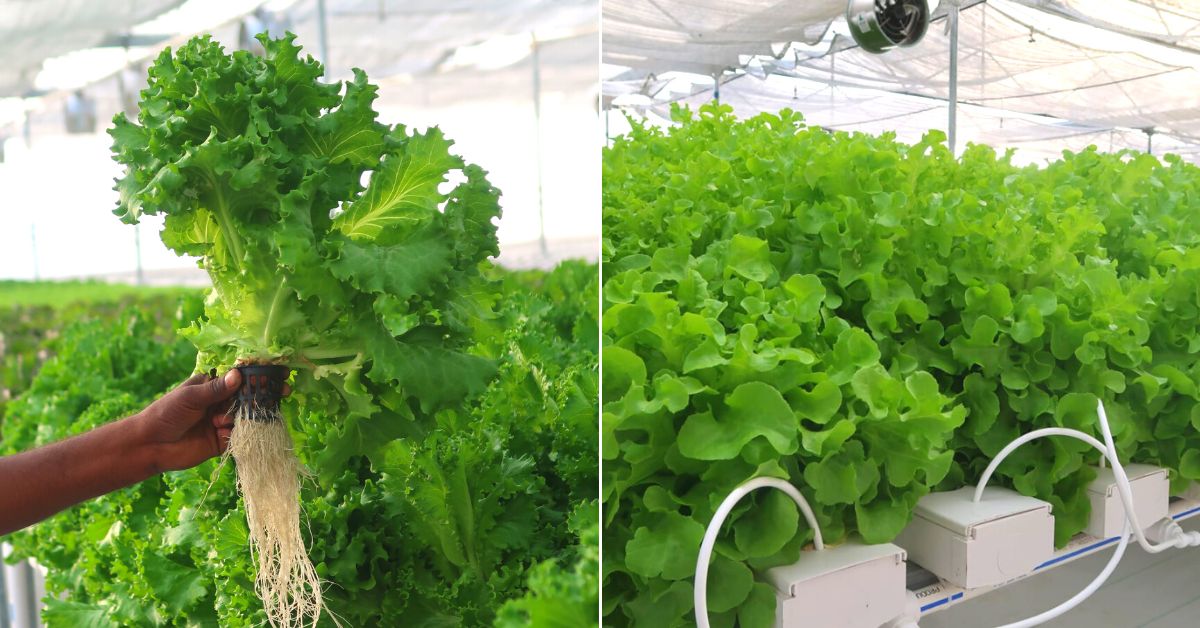 Lettuce grown medium-less
Empowering people to get into hydroponics
"Through our different business models, we provide operational training on how to run a farm and 100% agronomy support with respect to growing the veggies in a soilless medium. Our objective is to achieve a successful yield while keeping operational expenses affordable, besides growing crops in a more sustainable and tech enabled way. We also aid in the process of helping farmers and small ventures obtain government subsidies," says Tusshar. 
For example, recently the startup helped establish one of India's largest soilless farms in the Raver area of Jalgaon district, Maharashtra, under a joint venture model. 
"This is a 3-acre fully automated soilless hydroponics farm. We are growing English cucumbers, bell peppers, cherry/beef tomatoes, broccoli, etc. Annual yield from this farm is expected to be in the range of 200 to 300 tonnes depending on the crop mix. The joint venture partner of this project is Pranav Agarwal, who returned to India after studying in the UK. The name of the farm is 'Grovera Farms'. Currently, the crops produced from this farm are being sold locally within 400 km radius to entities traders, hotels, retail businesses, mandis, etc," says Tusshar.   
This farm became operational from November 2022. The process of setting up such farms comprises various steps and tasks that must be done by both the farmer and Rise Hydroponics. 
1) Local market research: What crops can you grow? Which crops have good demand in the region? These are two key questions they explore first. This is followed by assessing the local weather conditions, and building a suitably controlled protected cultivation structure and growing system depending on the crop. After this, a team of civil engineers employed by Rise Hydroponics visits the client's location and performs a 'site feasibility study'.   
2) Project Development: "After all the above process, we move to the next level, i.e., project development, where all the material for the farm is first bought and fabricated at our factory. This material is later transported to the site location along with our team of workers, engineers and supervisors who all take care of the complete project development end-to-end. Depending on the size of the project it takes anywhere between 40-70 days to develop the farm," say Tusshar.  
The cost of this project in Jalgaon is somewhere around Rs 2.2 crore, 80% of which is financed by a bank. 
"We are also helping Pranav obtain a subsidy of almost Rs 70 lakh under the 'Development of Commercial Horticulture Scheme' of the National Horticulture Board (NHB). We are also setting up a 15-acre soilless farm in Jewar, Uttar Pradesh, amongst a whole host of other large farms under our JV Model in 2023," says Tusshar.  
In addition, Rise Hydroponics has trained thousands of agriculture enthusiasts, farmers, entrepreneurs, businessmen, students, working professionals, homemakers, etc.  
"At Rise Hydroponics, we have developed many training modules starting with online training which is a six-hour question and answer session. We also conduct offline workshops for different durations like 2, 7 and 15 days, besides one-month programmes for detailed training and practical exposure and learning at our R&D farm in Ahmedabad," says Meet.
"We cover technical, operational, financial and marketing aspects of hydroponics farming. One can apply for our online training anytime and can also register to attend our upcoming offline training in the last week of January '23 through our website," he adds.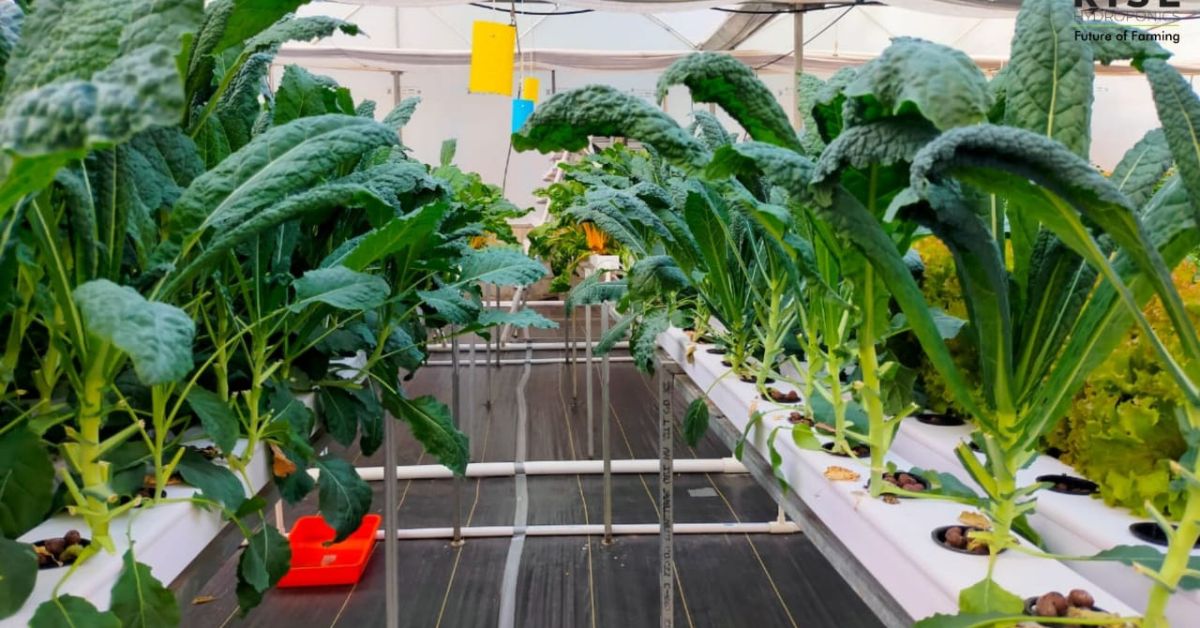 Growing Kale using nutrient film technique 
Looking ahead
"In terms of crop demand, coloured capsicum, cucumber, tomatoes and broccoli are few of our highest selling vine crops followed by leafy vegetables and herbs, such as lettuce, spinach, arugula, kale and oregano. In addition, we also grow high curcumin content turmeric, ashwagandha, ginger, shatavari, brahmi, basil and kalmegh, among others. These are used by manufacturers of nutraceuticals, pharma companies, ayurvedic companies as raw materials given their high content of nutraceutical extracts," explains Tusshar. 
Last financial year, their annual revenue stood at Rs 8 crore. Given their claims of witnessing a staggering 300% year-on-year growth, they are looking at higher revenue figures this year. Having said that, they are looking to raise over $1 million to enhance their capacity.
(Edited by Divya Sethu)
(Images courtesy Rise Hydroponics)